Diese Seite gibt es auch auf Deutsch.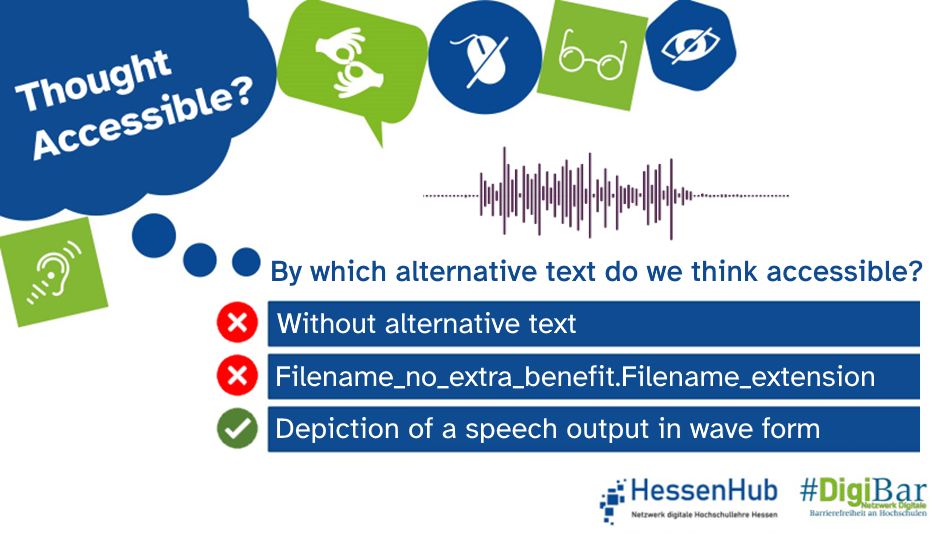 Think Accessible!
Blind and visually impaired people consume digital contents, akin to the wave form in the prior image, via the assistance of a screen reader, a braille – display and / or a speech output.
Due to the auxiliary tools not depicting the content of the graphics, the graphical contents require a so-called alternative text, which appropriately describes the image in text.
This alternative text can be deposited in all document formats, such as Microsoft Word, PDF, or HTML as well as by the major author tools and is optically invisible on screen.
Did you know?

Further information.
Alternative texts are a requirement for all contents that are available as an image.
Such can be – aside from all images, like diagrams, photos, or logos – texts, as they are often scanned as graphics, and icons, as how they often appear on the internet. Even formulae are mostly only available as graphics.
Since the alternative text is put out linearly and in one line, descriptions should be kept brief. The expression of a graphic can vary, depending on context. Therefore, always consider what the reader should know to understand the graphic, while creating an alternative text.
Further information about web and apps.
You can find advice on the most efficient way to design alternative texts for web and apps in the blog article by Jan Hellbusch.
Further information about digital documents.
Additionally, an explanatory video with a screencast, that deals with the topic of alternative texts in Microsoft Word, is available as part of the #Digibar in the series of video tutorials for accessible Microsoft Word documents. It was created in cooperation between the BliZ (Study Centre for Blind and Visually Impaired Students) at Technische Hochschule Mittelhessen (THM) – University of Applied Sciences and studiumdigitale at Goethe-University Frankfurt.
For instructions on all other formats, please consult the instruction of your respective author tool or text processing program.#
Further information about social media.
Alternative texts aren't solely important for web presence or PDF or text documents, but they play a vital role in social media as well.
In a project-accompanied survey among blind and visually people, realized by The German Association for the Blind and Visually Impaired (DBSV), 69% of the people stated that essentially every picture on Facebook / Instagram / Twitter should have a visual description (DBSV. (2020). Results of the survey of the DBSV to alternative texts in social media.
Responsible for the content: BliZ (THM).
Do you have any questions or suggestions? Please contact Sanja Grimminger.
#DenkBarrierefrei #ThinkAccessible #DigiBar #HessenHub #AnAllesGedacht